Whether it's quality compliance, revenue cycle management, operational excellence, hospital credentialing, or competing for new contracts, you need actionable data to prove your value and improve the surgical patient experience.
MACRA Compliance Forms
Intelligent documentation starts with the right form. Choose the one that works best for you.
MACRA SIMPLE FORM
Compliance + Quality
Sure you practice world-class care, but can you measure it? CMS holds providers accountable by requiring onerous reports demonstrating safety and quality measures. They reduce your payments when you can't. And your hospital needs similar reports for both your credentialing and theirs. Showing them how great you really are starts with intelligent data capture.
MACRA Plus Form
Compliance + Quality + Operational Excellence
If you're already capturing compliance and quality data, let's take it to the next level. With 7 additional fields, our MACRA Plus form enables you to monitor Operational Excellence. Some additional reports beyond compliance include:
First Case On-time Starts
Cost of First Case Delays
Surgeon Turn over Times
Anesthesia Turn over Times
Anes Ready Times
OR staffing utilization
Full Anesthesia Forms
Why duplicate all this data entry? Document it once in the anesthesia record and let us take care of the rest so you can focus on keeping patients safe.
General Anesthesia Record
Our General Anesthesia OR form is designed to collect everything a modern practice needs. It includes PreOp, Intraop, Extra Time, Regional, PostOp, and Complication pages.
Labor Anesthesia Record
Our Labor Anesthesia form again has the same minumum data set you need for success, but laboring women represent a different workflow than General Anesthesia. It includes pages specifically designed to cover these cases while ensuring intelligent data capture.
Short Anesthesia Record
Our Short Anesthesia OR form has the same minumum data set as above, but it's geared toward common short and simple cases such as endoscopy, opthalmology, and ENT. It includes similar pages as the General Form above.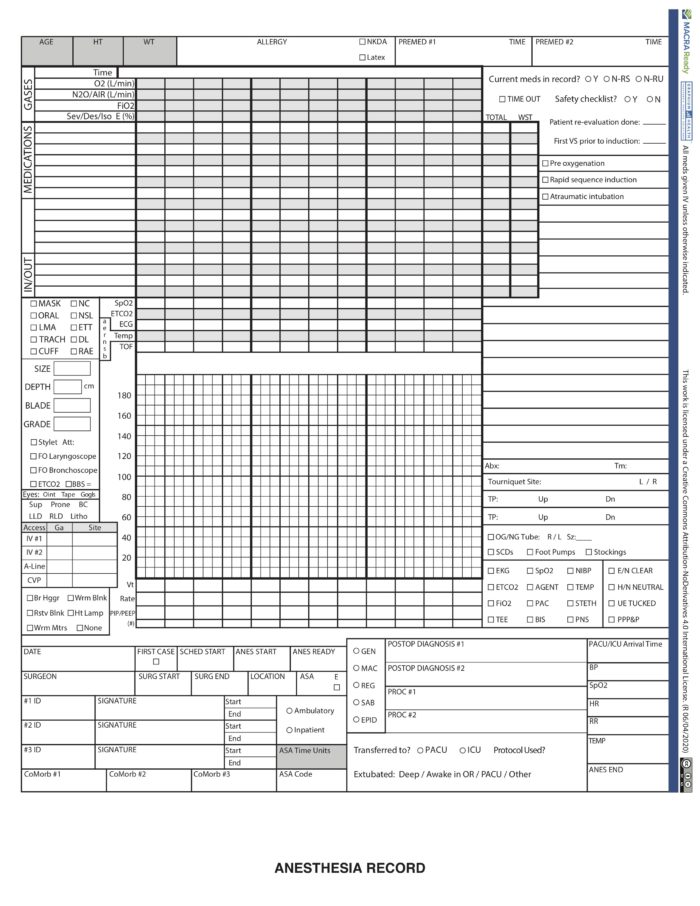 Charge Capture Form
Our clients want to streamline their current paper form processes. Get rid of your Face Sheets and combine your claim slip with our best-in-class compliance forms. Welcome to Charge Capture on steroids. Feel confident that you are recording what you need for MACRA Compliance and Quality, Operational Excellence, and now Charge Capture. Once in our platform, your data is ready for electronic submission to the RCM vendor of your choice. With Graphium, it really is that easy. Feel free to contact us about customizing your Charge Capture form.